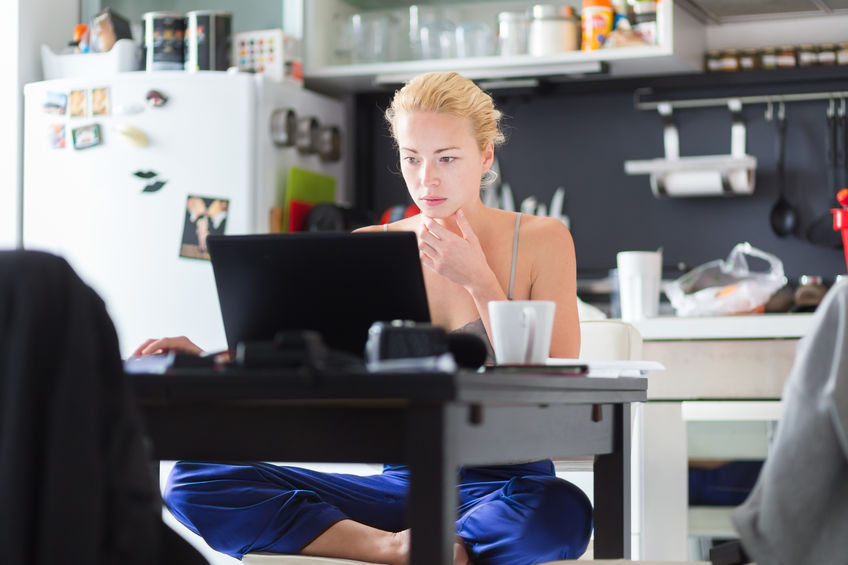 Working from home. Adapting to a new work environment
During these very challenging times for businesses and their employees, we know that the current state of flux will feel unsettling for most. At the time of writing this, many people's regular work routine has changed due to the need to self isolate and work from home.
The team at W2W work remotely from all over the U.K, and it's been like that since we started the business seven years ago. Our clinicians deliver our service via telephone and/or video calling so for our team and our clients, it's very much business as usual.
However, we know that not everyone is used to working in this way. In these times of uncertainty, we wanted to share some tips and tactics that we use to help us feel happy, balanced and more productive when working from home.
Go to work:
Your commute has gone from your daily routine, so you've won some time back. Use it wisely.
Get out of bed when you usually do. Not changing regular sleep cycles will help with the transition.
Get dressed. Seems like a silly thing to say, but you need to go from home to work mode, and this will help with that.
Instead of spending the 30-60 minutes you would typically be travelling to the office, why not use that time to exercise, consume some news or read a book. Starting your day with an activity will again help you transition from home to work mode.
See link for exercising at home advice.
Set up your office:
Where possible, you should avoid working with your computer on your lap in front of the TV. You might catch up on Homes Under the Hammer, but it's not going to be good for your posture or your productivity.
Choose a dedicated area to set up your work station appropriately.  This should ideally be at a table together with a supportive chair.   Try and choose a space that you can separate home and work more easily.
Think about the light and position yourself, so it helps, rather than hinders.
If you're prone to distraction and you share your new office/home with others pick a space that can be yours alone.
Communicate:
Make time in the morning and then throughout the day to have quick calls with colleagues to find out how they are. Don't talk about work at every conversation;  remember just ask how they are and listen.
We use WhatsApp at W2W for team communication. Quick queries that would typically be a short conversation across the desk can be turned into a text or a quick call.
Zoom/Skype/FaceTime. Whatever video software you prefer, use it to have conversations with people. We quite often have working sessions via Zoom. It feels like a technological solution to booking a meeting room.
There is a temptation to open up social feeds and check them regularly. Be disciplined with your usage. Communication is good as long it's for work during work hours. Instagram will still be there when you finish work.
Take regular breaks:
It's ok not to be working every second of the day. Taking frequent breaks will increase your productivity. Not everyone will feel comfortable knowing there is a sink of dirty dishes or a washing machine full of wet washing. Allow 10-minute breaks to do those chores but remember to prioritise work.
As long as you're not self-isolating, take time to go for a walk. Small and regular amounts of exercise will keep you focussed at work. Walking meetings with colleagues is a good way of getting exercise and working.
Have a lunch break. Make yourself something nice to eat and spend time away from your dedicated work area.
Staying hydrated will also help you stay focused throughout the day. Have a small glass of water that you have to keep refilling, and this will encourage you to move regularly too. A cup of tea here and there will also help you feel like its just another day at the office.
Leave the 'office.':
Turn your computer off. We know that there is a tendency to work beyond regular hours when you WFH, don't. Keeping your regular work hours will allow you to keep your daily home routines too.
Make sure you put all work away and out of sight. Close your 'office' door if that is possible.  It is important to be able to make a shift from work life to personal life.
Notice 3 things that have gone well at work that day. Write them down, be proud of your success (regardless of how big or small) and make yourself feel good.
As with going to work, spend the 30-60 minutes winding down by exercising, consume some news or read a book. Like with starting your day, finishing your day with an activity will also help you transition from home to work mode.
We know that as long as you prepare yourself for it, working from home can be productive and enjoyable. You can get an awful lot done when you don't have the distractions of an office environment. Who knows, the next few months might change how we work forever.
If you want to hear more about our approach and the work that we do to help people to recover their function after a diagnosis of a long term condition, then please get in touch at w2w.admin@working2wellbeing.com.
Working To Wellbeing (W2W) provides consultancy and intervention for health and wellbeing at work. We provide wellbeing and rehabilitation services, supporting employees with physical health, mental health and long term conditions, the 3 key causes of presenteeism and absence. We join the dots between the physical and mental health issues that cause and perpetuate poor health.
Our specialist clinicians are highly trained to provide a truly integrated service that results in health behaviour change and optimum work capability.