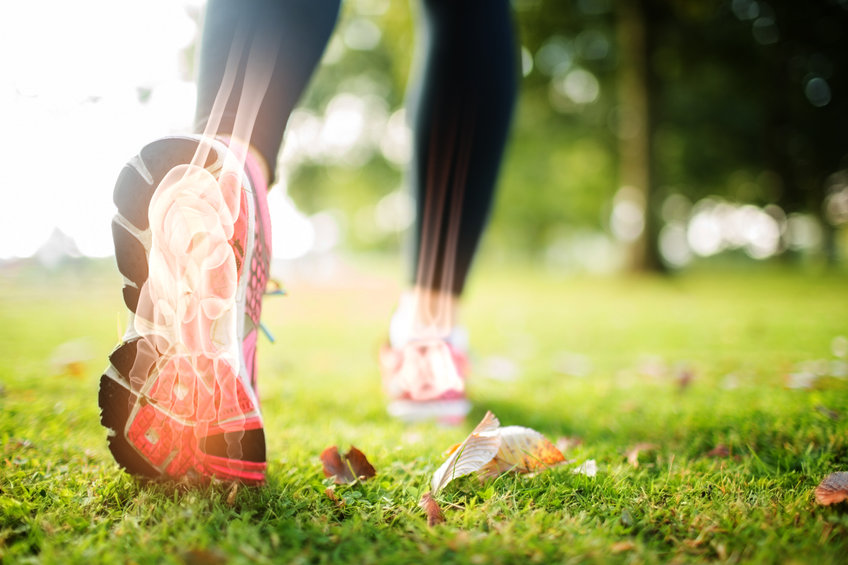 Strengthening your bones 
Sabita Stewart – Clinical Health Coach / Physiotherapy team lead MCSP    
Osteoporosis is the condition in which bone mineral density reduces to the point where bones have lost their strength. It affects over 3 million people in the UK, with women more at risk than men, particularly if menopause starts early or ovaries have been removed. Osteoporotic fractures have a significant negative impact on quality of life. One in three people will die 12 months after an osteoporotic hip fracture, with men being affected slightly more than women. These are not good statistics, but the good news is that you can greatly reduce the risk of developing osteoporosis through exercise and lifestyle choices.
Bones are living tissue, and bone cells are constantly being created and broken down.  Bone density increases when more tissue is created than lost, and this happens until the mid-30s. After this, bone density gradually reduces and the rate of decline increases significantly in women after menopause and in men from the 8th decade. The more bone density we create initially, the lower the risk of osteoporosis in later life.
How do we create bone density? The answer is simple – through weight-bearing and resistance exercise. The traditional sport of running, more modern activities like HITT, and other physical activities such as dancing can help.
But the question is how much and when should we do it?  Aim to take part in 2 sessions of strength and balance exercise or activity a week for roughly 30 minutes. Activities that challenge balance are also recommended. These sorts of training reduce the risk of falling and, therefore, fractures. A good way to look at this is to think of exercise as medicine only nicer tasting, which helps you regularly take it.
Participating regularly in various enjoyable activities throughout childhood and adulthood is the best way of optimising both physical and mental health and it's never too late to start.
Why don't you take 5 minutes now to think about exercise and activities you enjoy and write them down.  Then, think about all the things that will stop you from doing them.  Remember that people intend to do lots but often do nothing, so keep things simple and important to you. You'll increase your likelihood of doing them then.  Overall, try to aim for 150 minutes of moderate-intensity activity a week and if you need motivation, find and friend willing to exercise with you or perhaps use an app to help you, such as Couch to 5K or Active 10.
Most importantly, have fun and focus on enjoying your activity, knowing that you are setting yourself up for a healthy future.
Working To Wellbeing (W2W) provides consultancy and intervention for health and wellbeing at work. We provide wellbeing and rehabilitation services, supporting employees with physical health, mental health and long term conditions, the 3 key causes of presenteeism and absence. We join the dots between the physical and mental health issues that cause and perpetuate poor health. Our specialist clinicians are highly trained to provide a truly integrated service that results in health behaviour change and optimum work capability.