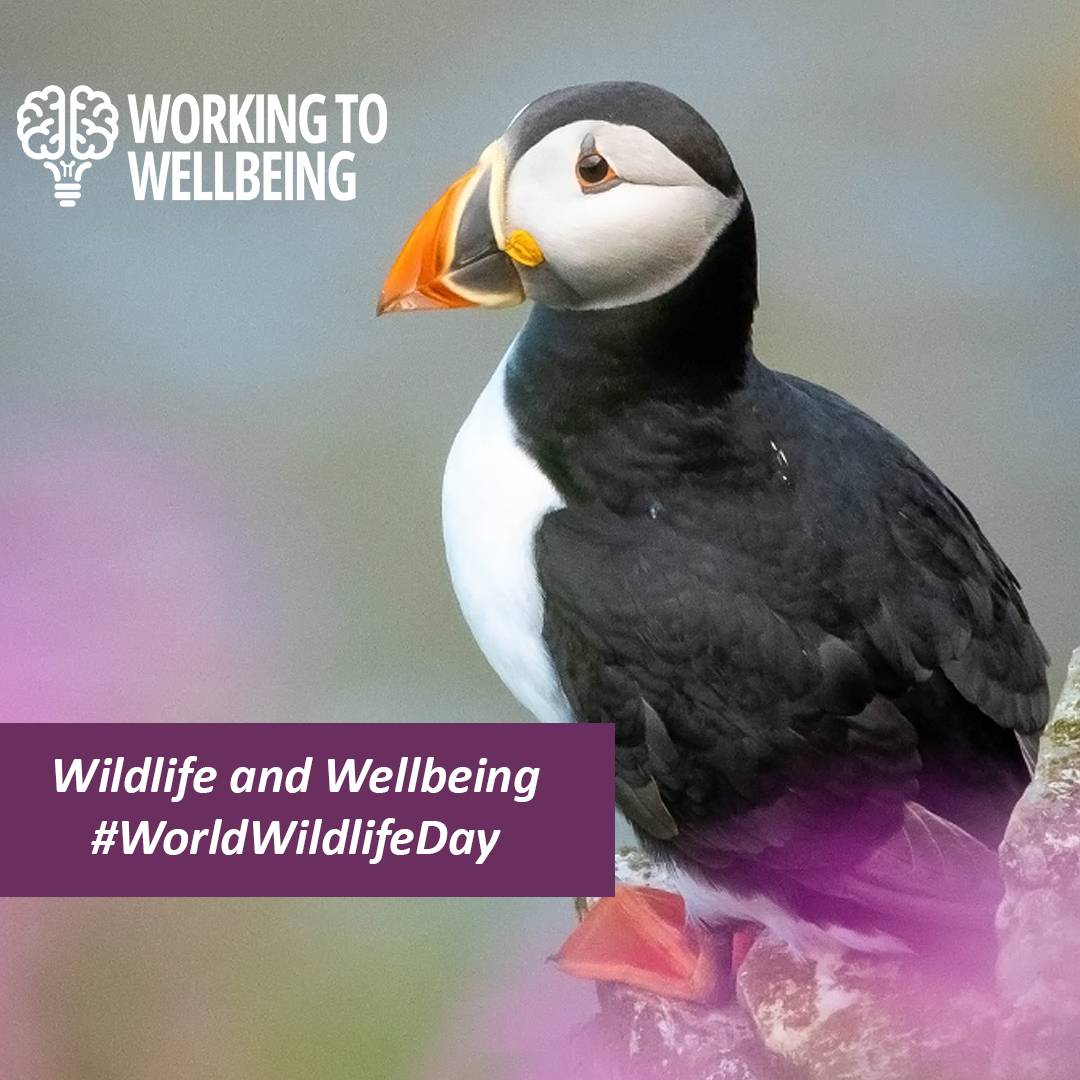 Wildlife and Wellbeing – World Wildlife Day 2023
By Kurt Bevan
World wildlife day is a United Nations International day to celebrate the world's wildlife and the contribution they make to our lives and the health of the planet.
To celebrate the world's wildlife, we wanted to highlight the positive contribution wildlife can make to our mental wellbeing whilst also doing our bit to support the world around us. W2W Marketing Assistant and hobbyist wildlife photographer Kurt Bevan writes about the relationship wildlife can have with our mental wellbeing.
As a photographer of wildlife, what I noticed when I started to go out, is that being in the natural environments was calming and peaceful, and improved my mental wellbeing. It gave me a place to switch my focus away from any struggles. Originally I was just a photographer who's only goal was to get the best image I can. Now I head out with my camera with no goal in mind except to go take time to myself and connect with nature, any photos I get is a bonus.
Studies by the University of Essex and Leeds Beckett University for The Wildlife Trusts, show that being amongst nature isn't something that has just benefitted me but many people. The study found that two thirds of participants experienced an improvement to their mental wellbeing when spending time amongst nature.
The greatest improvements were for people who had low wellbeing at the start of the study. The research also found that, in general, people who were already active with the wildlife trusts, had higher levels of mental wellbeing than those who were just starting out.
Many participants in the study were volunteering with The Wildlife Trusts. Volunteering is also a great way of meeting new people and connecting. Read more about how connecting with others can benefit wellbeing by reading our Brew Monday post, written by Kaylie Behan.
Mindfulness in Nature
At Working To Wellbeing, a common mindfulness technique we like to use in our Elevenses webinars is 'notice five things.' When walking through the forest, through a field or by a lake, take a moment and use your senses to connect with the world around you and notice five things.
Here are some things I often notice when amongst nature:
Using sight to watch the movements and behaviours of different species of animal
Taking in the smell of flowers and plants in different areas of a habitat
Listening and focusing on birdsong, try and listen for different birds 'talking' to each other from different trees
Using touch to feel bark on trees and petals on leaves
You can even notice taste, did you eat before you come out? It's something you wouldn't notice unless you switch your focus to it.
These are just some suggestions, there are so many different habitats and spaces where wildlife exists that allows these techniques to notice different things. Please also remember when in different habitats to respect the wildlife and act responsibly.
For more mindfulness, why not read our blog post for our upcoming elevenses webinar series? Our upcoming Elevenses starts Tuesday 7th March and runs for four weeks.
We'll dedicate 15 minutes each week to interactive webinars that help you up-skill and be more productive in your working week. As well as mindfulness we now have sessions devoted to exercise snacking.
Image of an Atlantic Puffin was also taken by Kurt Bevan
References
The Wildlife Trusts (2019) A Natural Health Service [online] Available at: https://www.wildlifetrusts.org/sites/default/files/2019-09/SROI%20Summary%20Document%20-%20DIGITAL_0.pdf
The Wildlife Trusts (2016) The Nature and Wellbeing Act [online] Available at: https://www.wildlifetrusts.org/sites/default/files/2018-09/nwa_summary_document_final_0.pdf
Working To Wellbeing (W2W) provides consultancy and intervention for health and wellbeing at work. We provide wellbeing and rehabilitation services, supporting employees with physical health, mental health and long term conditions, the 3 key causes of presenteeism and absence. We join the dots between the physical and mental health issues that cause and perpetuate poor health. Our specialist clinicians are highly trained to provide a truly integrated service that results in health behaviour change and optimum work capability.