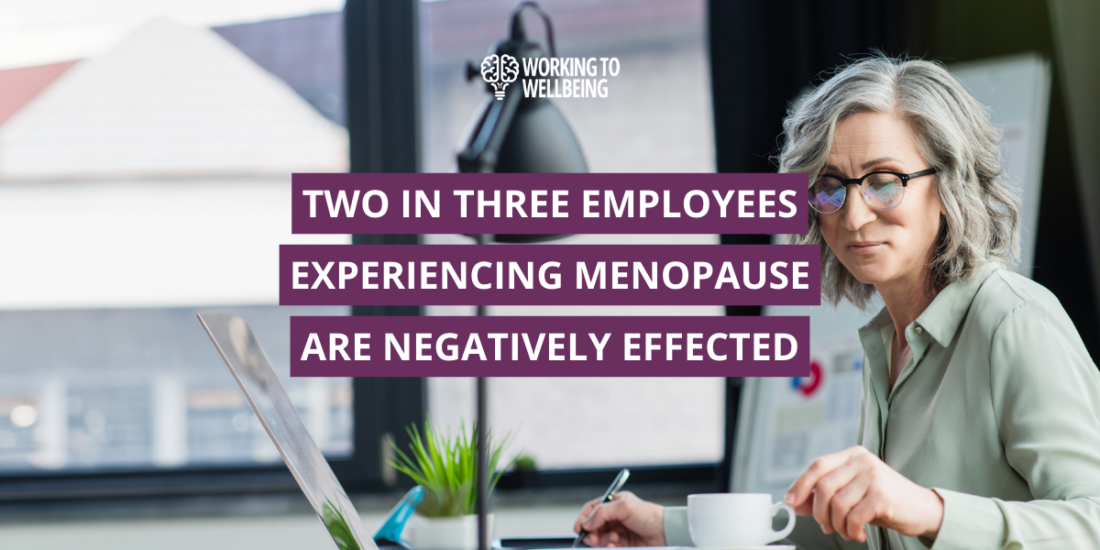 Two out of three people experiencing menopause feel it has a 'negative effect' on their work
Menopause and perimenopause have become an increasing focus for employers, with organisations trying to find solutions to increasing absenteeism which has been rising rapidly since 2020. ONS shows that in 2022 absenteeism was at its highest since 2004.
ONS data further shows that women in the age brackets of 35-49 and 50-64 have a significantly higher rate of absence in comparison to men, as well as other women in younger age brackets. 
This data isn't strictly affected by those who take time off work due to perimenopausal and menopausal symptoms however, survey results from CIPD's 'Menopause in the Workplace' report do suggest that it is something that is possibly affecting absenteeism and could be better supported.
A previous report from HR Review in 2022 mentions that 15% of women experiencing perimenopausal and menopausal symptoms, have had an absence from work. CIPD's latest survey revealed that 30% of women have taken time off from work due to their symptoms however only 15% admitted to their manager that symptoms of perimenopause and menopause were the reason for absence.
Data from the survey shows that issues facing those experiencing menopause include feelings of being:
Less able to concentrate (79% of respondents)

Under an increased amount of stress (68% of respondents)

Physically less able to carry out work tasks (46% of respondents)
With perimenopause and menopause affecting most women over the age of 40, it would be easy to assume that support for workers and absence due to symptoms should be considered 'normal' however this is not what research shows.
34% of those who have taken time off work due to their symptoms, but have not revealed to their line manager, say that embarrassment has prevented them from revealing the real reason for absence. This shows that menopause still carries a stigma for most, meaning it is not easy to talk about with colleagues.
32% of respondents also mentioned that an unsupportive line manager is the reason for not revealing the true reason for absence.
Menopause and perimenopause are natural occurrences for the majority of women as they reach an older age and therefore should be better understood and furthermore supported by colleagues, managers and HR to remove the stigma which is associated with them. 
To support people with their symptoms organisations should look to:
Have open discussions with colleagues

Implement policies regarding menopause and perimenopause.

Take simple physical action such as using desk fans for hot flushes and allowing for slightly extended or more regular breaks.
At Working To Wellbeing, our Menopause Work Support Service is work-focused and has been designed and delivered by a team of specialist, HCPC registered, clinicians. We also deliver a Line Manager Assistance Programme, designed to support line managers when it comes to supporting employees with long-term health conditions.
References
Office for National Statistics (2023). Sickness absence in the UK labour market – Office for National Statistics. [online] www.ons.gov.uk. Available at: https://www.ons.gov.uk/employmentandlabourmarket/peopleinwork/labourproductivity/articles/sicknessabsenceinthelabourmarket/2022. [Accessed Oct. 2023]
‌Menopause in the workplace. (2023). Available at: https://www.cipd.org/globalassets/media/knowledge/knowledge-hub/reports/2023-pdfs/2023-menopause-report-8456.pdf [Accessed Oct. 2023].
Brand, A. (2022). 10% of women leave the workforce due to menopause. [online] HRreview. Available at: https://hrreview.co.uk/hr-news/10-of-women-leave-the-workforce-due-to-menopause/142016#:~:text=According%20to%20research%20by%20menopause [Accessed Oct. 2023].‌